Vegetable Ethanol for Fuels, Homecare and Cosmetics
Bioethanol from CREMER OLEO is a natural and sustainable product. It is also known as agricultural ethanol and is produced by fermenting biomass containing sugar, starch or cellulose or sources from plant waste products. The process produces a water-soluble, colorless alcohol that can be used in cosmetics, pharmaceuticals, food, technical applications or fuels.
We import our sustainable bioethanol in various grades through long-term partners and professional supply chains from Europe and overseas. In Europe, we have highly professional tank storage facilities and deliver at short notice. CREMER OLEO now also offers special fillings in IBC Containers. Please do not hesitate to contact us!
The Bioethanol Portfolio of CREMER OLEO:
CremerETHANOL ENA 96
CremerETHANOL ENA 99
CremerETHANOL REN 96
CremerETHANOL REN 99
Bioethanol 90-94%
Bio-Fuel
CREMER OLEO Standards:
Varieties:
Fully Denatured, Undenatured, Denatured with 1% GERMAN MEK, Custom Denatured, Ph. Eur., GMO, Non GMO, USP, BP, REACH registered
Certifications:
HACCP
REDCert EU (Nabisy)
ISO 9001
Denatured or undenatured?
As alcohol, bioethanol is subject to excise tax, and national authorities control all deliveries. Denaturing makes alcohol or ethanol undrinkable. Denatured alcohol can then be supplied under tax exemption, provided the national authorities accept the added product as a denaturant.
CREMER OLEO supplies denatured and undenatured ethanol. We are happy to undertake customer-specific and special denaturations for you, even at short notice and in larger quantities. Please contact us if you need individual denaturations, e.g. for cosmetics. We will always try to find the best solution for your specific requirement.
Biocide Approval
Industrial bioethanol from CREMER OLEO may be used as a biocide in the EU: We have been added to the Article 95 list by ECHA, the European Chemicals Agency.
Biocides are chemicals used to protect the health of people and to protect products, such as disinfectants, wood preservatives or preservatives. Biocidal products may only be marketed if the manufacturer or distributor has undergone a rigorous registration process and is listed on ECHA's Article 95 list. Follow the listing of CREMER OLEO as substance supplier for ethanol in the ECHA Article 95 List.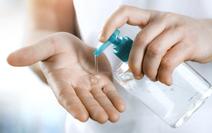 Uses of Bioethanol from CREMER OLEO
Biofuels
Industrial and technical Uses
Household and Cleaning Products
Nutrition
Cosmetics
Pharmaceuticals
Physical and Chemical Properties of Bioethanol
Alternativ designations:
Molecular formula:
CAS number:
Molar mass:
Bioethanol Structural Formula

Aggregat state:
Color:
Smell:
Density:
Melting point:
Boiling point / decomposition temperature:
Flash point:
Spontaneous ignition:
Danger of explosion:
The product does not present an explosive hazard; however, explosive vapor-air mixtures can form.
Solubility in / miscibility with water:
Fully miscible with water

Production and Origin of Bioethanol
Bioethanol is produced in four stages:
Milling of feedstocks
Fermentation of the mass
Distillation
Adsorbation / Dehydration
If the biomass is coming from grains or cellulosic materials, five stages are used: An enzymatic process between the milling of feedstock and fermentation of the same is necessary.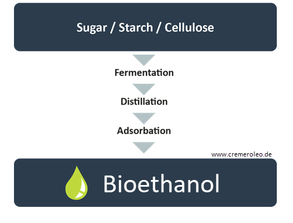 Contact
Your contact persons for Biofuels from CREMER OLEO: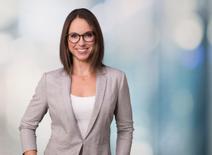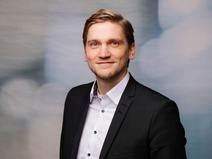 Your contact persons for Industrial Bioethanol:
Excise tax
Ethanol is subject to excise duty, national authorities strictly control all shipments. Within the EU and UK, excise tax rates vary between member states and can be a multiple of the retail price. We place a high priority on complying with the regulations of the EU member states in which we operate. Our ethanol can be delivered undenatured, without any additional products. In this case, you as the consignee must present a permit from your national authorities to receive ethyl alcohol under excise suspension. Denatured ethanol can be delivered under excise exemption, provided that the national authorities accept the added product as denaturant. We would like to point out once again that the individual EU member states each have their own regulations regarding the acceptance of ethanol. It depends on the local national legislation whether a special permit is required and under which conditions a recipient may receive ethyl alcohol. For more information, please read the general European excise regulations and check with your local excise authorities.