What is Bioethanol?
Ethanol is the trivial name and common term for Ethyl Alcohol. Ethanol traded by CREMER OLEO is always bioethanol. It was produced by fermenting biomass containing sugar, starch or cellulose, e. g. from sugar cane or grains. Therefore, CREMER OLEO's ethanol is always a natural, renewable product. We do not offer synthetic ethanol.
Ethanol is a saturated straight chain alcohol. Physically, ethanol is a water-soluble, clear, colorless liquid with a characteristic smell and a low boiling point.
Whether used in fuel, cosmetics, pharmaceuticals, foodstuffs or in technical applications, Ethanol is a very useful and versatile raw material.
Physical and Chemical Properties of Bioethanol
Alternativ designations:
Molecular formula:
CAS number:
Molar mass:
Bioethanol Structural Formula

Aggregat state:
Color:
Smell:
Density:
Melting point:
Boiling point / decomposition temperature:
Flash point:
Spontaneous ignition:
Danger of explosion:
The product does not present an explosive hazard; however, explosive vapor-air mixtures can form.
Solubility in / miscibility with water:
Fully miscible with water

Production and Origin of Bioethanol
Bioethanol is produced in four stages:
Milling of feedstocks
Fermentation of the mass
Distillation
Adsorbation / Dehydration
If the biomass is coming from grains or cellulosic materials, five stages are used: An enzymatic process between the milling of feedstock and fermentation of the same is necessary.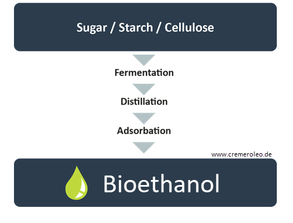 Denatured or undenatured?
Bioethanol is subject to excise duty. National authorities strictly control all shipments. Denaturing makes ethanol non-drinkable. Denatured ethanol can be delivered under excise exemption, provided that the national authorities accept the added product as denaturant.
CREMER OLEO supplies denatured and undenatured ethanol. We will gladly take over the denaturing of your ethanol for you - just contact us. Read more about our production and contract manufacturing offers. We always try to find the best solution for your specific requirements.
CREMER OLEO's Bioethanol Portfolio
Fuel Ethanol
Industrial Ethanol 99%
Industrial Ethanol 96%
Crude Ethanol
Further qualities on request
Uses of Bioethanol from CREMER OLEO
Biofuels
Industrial and technical Uses
Household and Cleaning Products
Nutrition
Cosmetics
Pharmaceuticals
Contact
Your contact person for Bioethanol: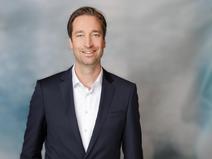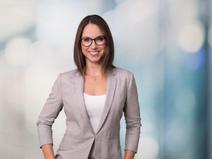 Your contact person for industrial ethanol:
Excise tax
Ethanol is subject to excise duty, national authorities strictly control all shipments. Within the EU and UK, excise tax rates vary between member states and can be a multiple of the retail price. We place a high priority on complying with the regulations of the EU member states in which we operate. Our ethanol can be delivered undenatured, without any additional products. In this case, you as the consignee must present a permit from your national authorities to receive ethyl alcohol under excise suspension. Denatured ethanol can be delivered under excise exemption, provided that the national authorities accept the added product as denaturant. We would like to point out once again that the individual EU member states each have their own regulations regarding the acceptance of ethanol. It depends on the local national legislation whether a special permit is required and under which conditions a recipient may receive ethyl alcohol. For more information, please read the general European excise regulations and check with your local excise authorities.