What is Glycerine?
Glycerine is a by-product of saponified, hydrolyzed or transesterified fats and oils. It was discovered in 1779 by the German-Swedish chemist and pharmacist Carl Wilhelm Scheele during the saponification of olive oil. The name of the liquid is derived from the Greek word glykys, "sweet."
Physically, glycerine is a water-soluble, colorless, odorless, clear and viscous liquid with a high boiling point. Chemically, glycerine is a trivalent alcohol that can be made to react and yet is stable under most conditions. Because of these unusual properties, its good compatibility with many other substances and its ease of processing, glycerine is used in many applications.
In 1854, the English entrepreneur, chemist and plant breeder George Fergusson Wilson developed a process to synthesize glycerine on an industrial scale. Today, it is generally refined by distillation after extraction in its raw state.
Glycerin, Glycerine or Glycerol?
All names are correct and trivial names for a substance that chemically correctly, according to UIPAC nomenclature, is called propane-1,2,3-triol. The most common name is glycerine. The name glycerol is also frequently used. It has the correct suffix "-ol" for an alcohol (the suffix "-in" stands for alkynes or amines). Glycerine is a sugar alcohol and the simplest trivalent alcohol, a so-called triol.
Depending on the application or labeling standard, other terms are used for glycerine: The correct molecular formula is C3H8O3. Its CAS number is 56-81-5, and in the european food industry its designation is E 422. Glycerine is used here as an additive to improve consistency, flavor and preservation.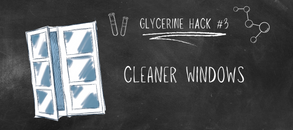 Useful Glycerine Tips for the home
Glycerine has many uses, and not just in industry. For the most popular glycerine hacks in everyday life, follow us on LinkedIn.
Physical and Chemical Properties of Glycerine
Glycerine Structural Formula

Density:
Melting point:
Boiling point / decomposition temperature:
Flash point:
Spontaneous ignition:
Danger of explosion:
The product does not present an explosive hazard; however, explosive vapor-air mixtures can form.
Solubility in / miscibility with water:
Glycerine from CREMER OLEO
CREMER OLEO is one of the world's largest independent distributors of vegetable and sustainable glycerine. With several locations in Europe, North and South America and Asia, we are closely networked globally - for the benefit of our partners, to whom we offer the best service.
At short notice, we are able to supply glycerine from all raw materials, such as rapeseed, soybean or palm, in many purity grades and with dedicated certifications. In our worldwide storage facilities and tanks, we keep market-standard refined glycerine with a purity of 86.5% or 99.5% in stock . And we also offer technical glycerine produced from tallow or recycled oils (UCO).
We are happy to help you with challenging tasks: For example, we can help you to source glycerine in smaller packaging sizes, such as 1 kg or 25 kg canisters, 250 kg drums or 1250 kg IBCs. We have years of experience in the glycerine trade, work with the most reliable partners and can therefore also meet your individual packaging requirements.
You need a logistics concept for complicated supply chains? Just take advantage of our vast know-how in product quality, certification or packaging units. The CREMER OLEO glycerine team will be happy to help you!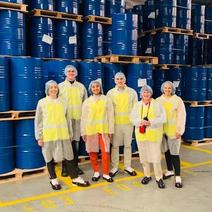 The CREMER OLEO Glycerine Team as guests at H&S Filling in Barneveld, where our Glycerine Logistics Hub for the European continent is located.
CREMER OLEO Glycerine Portfolio:
Crude Glycerine 80,0% (What ist Crude Glycerine?)
Glycerine 86,5% / CremerGLYC 86,5%
Glycerine 99,5% / CremerGLYC 99,5%
Glycerine 99,7% / CremerGLYC 99,7%
Glycerine 99,8% / CremerGLYC 99,8%
Glycerine 99,9% / CremerGLYC 99,9%
Glycerine 99,5% / CremerGLYC 99,5% based on 100% rapeseed
Glycerine 99,5% / CremerGLYC 99,5% RSPO MB
Glycerine 99,5% / CremerPHARM
(EXCiPACT)
Organic Glycerine / CremerGLYC Bio
Organic Glycerine / CremerGLYC Bio RSPO/IP
Further qualities on request
Glycerine Ph. Eur.
Pharmaglycerine
Glycerine Segregated / SG
Glycerine palmfree
Rapeseed glycerine
RSPO Glycerin
Glycerine USP
GMO Glycerine
NON GMO Glycerine
Glycerine Mass Balance / MB
Specifications:
Ph.Eur, USP, E422, JP, BP, DAB
Form:
Packaging:
Loose / bulk in tank truck
ISO containers
Kosher
Kosher Passover
Halal
GMP+ / QS
ISO 9001
IFS Broker (GFSI)
Bio-Glycerine additionally COSMOS, NOP, EU-Bio
Please find and download the current certificates of CREMER OLEO on the Quality page,
Production of Vegetable Glycerine
There are two different types of glycerine − vegetable and petrochemical glycerine. Nowadays, the petrochemical production process is only seldom used. Vegetable oils, so-called triglycerides form the basis for the production of glycerine.
Today, vegetable glycerine is produced on a large scale using three established processes. What they have in common is that the glycerine is a by-product of a reaction that is mainly used to manufacture another product. Glycerin is therefore a so-called co-product.
Saponification – co-product in soap production
Hydrolytic cleavage – co-product in fatty acid production
Transesterification – co-product in biodiesel production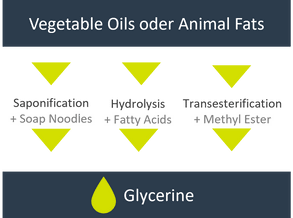 Uses of Vegetable Glycerine
Cosmetics
Foodstuffs
Pharmaceuticals
Homecare
Feed
Technical Uses