OLEO World
Supply Chain Services for more than the Last Mile

09.05.2023
CREMER OLEO is currently expanding its range of supply chain services. How did this decision come about?
The past three years have clearly shown all of us what it means to have a good supply chain. But it has also become clear how labor-intensive the job is and how flexible you have to be. Manufacturing companies have their expertise in the production of semi-finished or finished products, rather than in inbound logistics or supply chains.
So more and more customers are finding that it pays to outsource supply chain tasks. They then focus on production and leave the journey of their products to experts - completely or at least for the laborious last meters.
On request, we also turn an extra loop around your drums ;)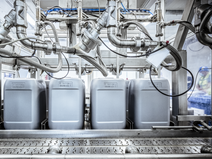 Modern filling line at CREMER OleoServ in Uetersen
What does that mean in practice? What supply chain services does CREMER OLEO provide for its customers?
This begins in the country of origin of the goods: For example, we have them reloaded from flexibags into tanks so that they can then be shipped to Europe on a larger scale by bulk ship. Or we handle goods in ISO containers so that they can be gently heated to the right temperatures. For other customers, we temporarily store goods in tanks, thus ensuring coordinated just-in-time delivery. But we can also cushion delivery peaks with stockpiles, keep a careful eye on inventories, handle the often tedious paperwork and customs work, or fill substances into specific containers. For the Northern European region, we even offer services such as storage, melting of the goods, filling or shingling in-house, at CREMER OleoServ.
Supply chain solutions by CREMER OLEO:
Transport
Loading
Customs handling
Delivery just in time
(Intermediate) Storage
Stock Management
Filling
Heating of ISO Containers
Melting of Products
Flaking
Delumping
These small-scale services are part of many supply chains. Does CREMER OLEO also offer large, end-to-end solutions?
Of course. We have been active in the market for years and have built up infrastructures for complex supply chain solutions with many customers. For this, we not only have the expertise in-house, but also long-standing and very reliable business relationships with partners worldwide. In Europe, for example, we are not only at home in the Port of Hamburg, but also in Antwerp and Rotterdam. This allows us to adapt to the individual needs of our customers and partners.
Business Manager Oleochemicals: Andreas Pesnjak
Andreas Pesnjak is our Business Manager in charge of CREMER OLEO's Oleochemicals. He is also your contact person if you have general questions about our raw materials for the nutrition industry.

Write an E-Mail